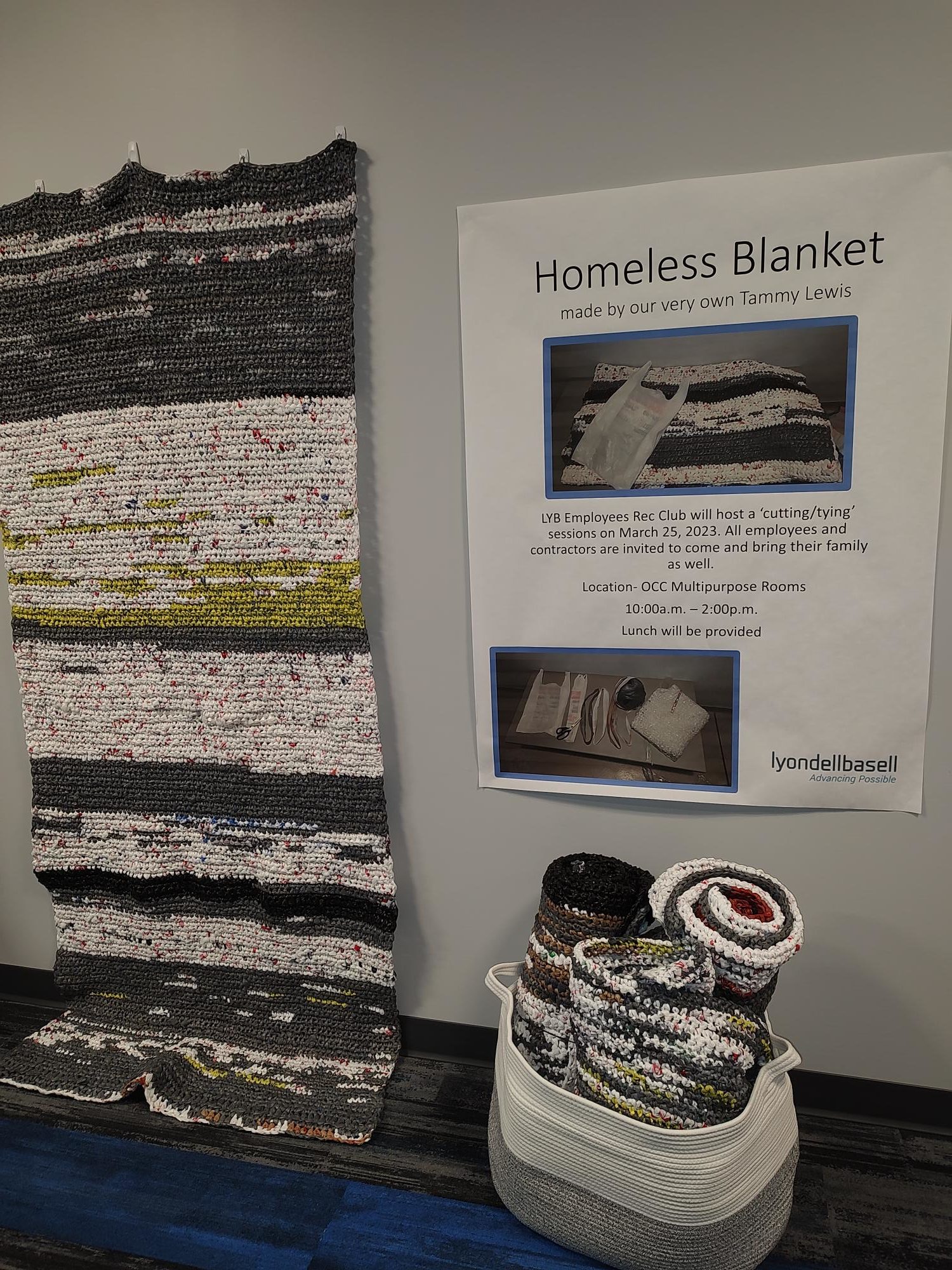 Tammy Lewis has a passion for repurposing.
With a talent for knitting and crocheting, Lewis and her daughter spent many snowy Iowa winter nights creating hats for those in need and hanging them on a community coat rack outside a local coffee shop for people to take.
Understanding there was a larger need to help the homeless, Lewis decided to turn to social media to gather ideas on other ways to help.  She came across the idea to crochet plastic shopping bags into a mat that could be used in local shelters for people to take and sleep on.
"Something clicked," said Lewis. "I am constantly seeing plastic bags scattered all over the place. This idea could help people stay warm and keep plastic bags out of landfills. I was instantly excited."
Lewis quickly realized she would need to collect more plastic bags to create the mats, so she turned to LyondellBasell where she works as an E&I technician.
The plant adopted the idea right away setting up ten recycling containers, dedicated to collecting bags.
Working alone took Lewis about 30 hours to crochet one mat. With the help of her colleagues at LyondellBasell, the process moved quicker and more mats were made in a timely matter.
The site even embraced a crochet party, where participants learned how to prep the bags, cut the strips, and roll the plastic yarn into balls.
About 34 employees, family and friends showed up for the first event, producing four fully complete mats.
Additional 'crochet parties' are being planned for later this year at LyondellBasell.
"It is about taking something that is essentially considered trash by most and creating something useful for someone that needs it," said Lewis. "It is our responsibility to make a difference. It is our responsibility to try to change things for the better in our community."